The
Trainers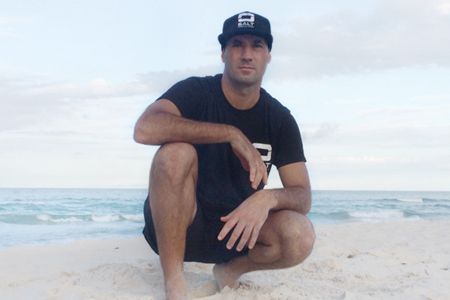 FOUNDER - MARCOS FREITAS
Marcos is the founder of "Salt Performance Training", a synthesis of his long-term passion for physical conditioning, movement in nature, his extensive knowledge of physical education, and his personal philosophy of life.
Marcos was born and raised in Florianopolis, Brazil, a city/island known for it's healthy, active and natural living. At a young age he found his greatest love in sport - surfing. His life was spent outdoors exploring the surrounding island, lands and oceans and would travel across various terrains in search of the best local breaks with his mates. Marcos's parents would also take him to a local University of Physical Education where he learnt and participated in various sporting practices such as swimming, power yoga, capoeira, jiu jitsu, judo and soccer until his teenage years. In his late teens, Marcos went into military training where he trained cross fit in both natural and urban settings, day and night for years. He loved it all and was inspired by his coaches. One day he decided, he would do the same.
In 2004 Marcos decided to follow his own path and moved to Australia to live out his dream. While living, training, and instructing in Australia, he worked on synthesizing his knowledge, experience, methods, and principles into the creation of an entirely new training and coaching method. Salt Performance Training was born. Designed specifically for surfers who wanted to improve their overall performance, health and fitness. Training in a way never done before - assisting others to reach their mental and physical potential. Every exercise works on multiple parts of the body, combining the best of functional movement, body weight, strength and conditioning training principles all in one. Marcos's Salt programs improve mobility, agility, strength, coordination, endurance, flexability and core stability to build a strong foundation and get full body results. Wanting all to benefit from his training, he created customised programs for all types of surfers, levels of ability, fitness and age.
Marcos has a vast knowledge in different dietary requirements, healthy food preparation and nutrition. He also has a clear passion for fitness and movement in nature and hands on experience in motivating all levels of fitness to achieve great results. He is highly disciplined and focused on understanding the human body and it's capacity for movement. A big believer of fresh air and open spaces Marcos primarily trains outdoors in a friendly, down to earth manner. Marcos is dedicated to your health and happiness both physically and mentally through exceptional training and positive personal relationships.
ACCREDITATION
A fully certified Personal Trainer with the Human Performance Centre (HPC), certified Level 1 Surf Coach and Level 1 Surf Judge with an accreditation from Surfing Australia, Level 1 Strength and Conditioning Coach with accreditation from Australian Strength Conditioning Association and ZUU Level 1.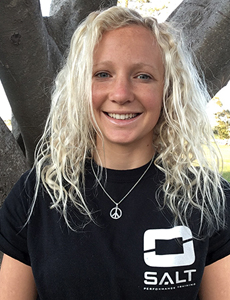 MICHAELA KOPČILOVÁ
Michaela has a Masters in Exercise Science, lifetime experience in the sporting industry while also having trained in 6 different countries. The experience of working and living in various foreign countries has given her valuable knowledge, inspiration, personal and professional skills. Her greatest passion is to help others reach the best of their potential, both mentally and physically, while experimenting and being open minded to different methods and approaches.
Michaela is originally from the Czech Republic but her love of extreme boardsports; snowboarding, wakeboarding and skating has led her to travel, study and work across Europe and now here in Australia. She is a qualified wakeboard instructor, fitness trainer, yoga teacher and massage therapist. When she first arrived to Australia it was only natural for her to try surfing. From her first surf she was hooked. It combined all of her loves; nature, water, freedom, and the ocean element. She found her purpose in surfing and enjoys helping others to improve and get more fun out of the sport they love. She believes that boardsports are not only an activity, it is a way of living, thinking and feeling.
She started training with Salt Performance Training not long after arriving to Australia and found an instant connection with their method and philosophy. It fit her perfectly and it wasn't long before she became a trainer for them. She loves how Salt's training is dynamic, diverse, fun and effective and enjoys the complexity of it: focusing not only on strength, endurance agility and mobility, but also mindset and technique. Salt's training makes her think, imagine, practice and feel the movement, which allows her to implement the techniques in the water in a completely natural way.
The Salt method reflects her personality and thus feels totally natural for her. For Michaela the process of training is about the mutual interaction between the coach and the person, so while she's teaching she is also learning from them at the same time. Here at Salt we don't believe in trying to prove anything to anyone or compete with others. Our aim is to create a fun environment for you to grow, learn and improve in the sport you love. To be creative, supportive, inspiring and share our knowledge with others.
ACCREDITATION
Masters Degree in Sports Science with Charles University Czech Republic, Bachelor Degree in Exercise Science with Masaryk University Czech Republic, studying abroad at Griffith University Australia and Technische Universität München, Certificate in Massage Therapy, Degree in Yoga Teaching, Certificate in TRX and Functional Training and Personal Training Certificate.